The second issue of Mystery Readers Journal: Spies & Secret Agents (Volume 34:2) is available now as a PDF and hardcopy.

Buy this back issue! Available in hardcopy or as a downloadable PDF.

Below is the Table of Contents, as well as some sample articles from the new issue.
TABLE OF CONTENTS
The Myth of Mata Hari by Michael Kurland
Into the Deep with Literary Spymaster John le Carré by Kay Kendall
I Spy: A Contributor Remembers Espionage Magazine by Josh Pachter
Adding Spies to Life: The Truth About George Smiley by S. Subramanian
AUTHOR! AUTHOR!
How the Heck Do You Write a Cozy Spy Series? by Anne Louise Bannon
Spies on our Streets by Rona Bell
Tanner Comes in from the Cold by Lawrence Block
My Brush with Spying by Rhys Bowen
Why Spies? by Diana Chambers
The Spy Choice: Real or Fantasy by Michael Chandos
Secret Agent Superheroes by O'Neil De Noux
Of Course I Love Spies, I Was A Reporter by Dan Fesperman
Why Would Anyone Want to Be a Secret Agent? by Simon R. Green
Writing the Wrong: Getting Into the Head of Assassin Characters by Gary Grossman and Ed Fuller
The KGB Convinced Me to Write Spy Novels by Howard Kaplan
Femme Vitales by Anna Lee Huber
Try Not to Tell Secrets by Arthur Kerns
London Spy—Fact and Fiction by Gay Toltl Kinman
Come Spy With Me by Gayle Lynds
The Secrets of Arisaig House by Susan Elia MacNeal
It's All in a Day's Work… But Not That You're Supposed to Know It by Adrian Magson
Is the Spy a Feminist? by Jessica Mann
Spy vs. Me by Terrence P. McCauley
Spies and the Collision of Fact and Fiction by S. Lee Manning
My New Adventure by Anne Perry
Keeping It in the Family by G.B. Pool
A Crowded Field by Bill Rapp
The Perfect Cover by Michael Rose
I Spy a Mystery Series for Young Readers! by Linda Joy Singleton
How My Diary as a DC Intern Turned into My Mystery Novel Debut by Peter Stone
Secrets from Room 40 by E.J. Wagner
COLUMNS
Murder in Retrospect: Reviews by Sandi Herron, Lesa Holstine, Robert Mangeot and L.J. Roberts
The Children's Hour: Spies and Secret Agents by Gay Toltl Kinman
Crime Seen: Cold War Classics by Kate Derie
The Real Spies by Cathy Pickens
From the Editor's Desk by Janet A. Rudolph
***
Subscribe or renew Mystery Readers Journal for 2018 and receive all four issues for '18: Gardening Mysteries; Spies & Special Agents; The Far East; The American South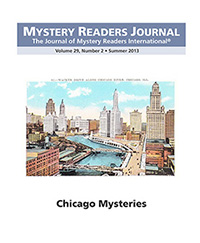 Many back issues of Mystery Readers Journal are available as single copies in hardcopy or PDF.
Check out the Holiday Mystery Lists on the MRI website. Everything from New Year's through Boxing Day Mysteries. Over 6500 titles.

Are you in a mystery bookgroup? Check out our International Mystery Book Group list. Want to add a book group or delete one? Make a comment below.

Check out the daily Chocolate Recipes, Reviews, and News on Janet Rudolph's DyingforChocolate Blog.
Call for Articles for 2018: Murder in The Far East; Murder in The American South. First issue in 2019: Murder Down Under.