Erin Go Bragh
! With
St Patrick's Day
tomorrow, you'll want to read up on
Irish Mysteries
.
Mystery Readers Journal
had a spectacular themed issue on
Irish Mysteries
in 2008. Download now for immediate satisfaction or order hardcopy.
Buy this back issue!
Available in hardcopy or as
a downloadable PDF
.
Irish Mysteries
Volume 24, No. 2, Summer 2008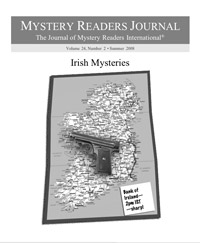 TABLE OF CONTENTS
Is Sister Fidelma a Credible Historical Character? by Gail Egbers
The Brighter Side of Irish Crime Writing by Dick Adler
Guardians of the Peace by Jim Doherty
AUTHOR! AUTHOR!
Shadows of Guilt: Ireland in the 1950s by John Banville, aka Benjamin Black
Distance Lends Perspective by Colin Bateman
Billy Boyle Goes to Ireland by James R. Benn
An Irish Heroine by Rhys Bowen
Crime Pays—On the Page by Declan Burke
No, Not the Blarney Stone by Ken Bruen
An Irishman's Lot by Doug M. Cummings
The Importance of Being Irish by David Dickinson
When Irish Writing Roots Are Showing… by Carole Nelson Douglas
Where Fact Meets Fiction by Garbhan Downey
Killing the Peace Process by Ruth Dudley Edwards
The Roots of Murder by Tana French
Rachel O'Reilly's Murder by Jenny Friel
Josephine Tey and Nuala Anne McGrail by Father Andrew M. Greeley
Finding Mythic Ireland by Lyn Hamilton
Foxes, Cabbages & the Ancient Laws of Ireland by Cora Harrison
Stumbling on a Body in the Bog by Erin Hart
How the Irish Created My Civilization by Jeremiah Healy
I Owe My Life to an Irish Criminal by Eoin Hennigan
Irish Soul by Tobsha Learner
A Literary Tour of One Dublin Author by Stephen Leather
The Irish in P.I. Frank Johnson's Debut Outing by Ed Lynskey
Casting a Cold Eye on the Gloss of Modern Ireland by K.T. McCaffrey
Irish Connection by John McEvoy
Patrolling the Border by Brian McGilloway
The Absence of Death by Cormac Millar
Writing and Ireland by Pat Mullan
The Elusive Irishman by Teagan Oliver
An Arresting Tale by Ralph Robb
The Irish in Me by Les Roberts
Balancing the Book by Zoë Sharp
Lark and the Quaker Connection by Sheila Simonson
Interwoven Irish by Therese Szymanski
Irish Crime Writing: Truth Sells Better Than Fiction by Neville Thompson
Sister Fidelma, 7th-Century Supersleuth by Peter Tremayne
COLUMNS
In Short: Murder Most Irish by Marvin Lachman
Just The Facts: Mole To Manhunter by Jim Doherty
Children's Hour: Irish Mysteries by Gay Toltl Kinman
An Irish Author in the Golden Age: Freeman Wills Crofts by Philip Scowcroft
MRI MAYHEM by Janet A. Rudolph
Letters to the Editor
From the Editor's Desk by Janet A. Rudolph