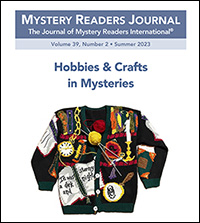 Mystery Readers Journal: Hobbies & Crafts in Mysteries (39:2) is now available as a PDF and Hardcopy. We had one other issue of Hobbies & Craft Mysteries, and it is still available as a PDF download: Hobbies & Crafts & Special Interests in Mysteries (26:4) 2010.
If you're a PDF subscriber, you should have received download instructions (let me know if you haven't). Hard copy subscription copies should be received this week. International subscribers will receive their issues within two weeks. PDF Contributor copies will go out today or tomorrow. Thanks to everyone who contributed to this amazing issue.
Hobbies & Crafts in Mysteries
Volume 39, No. 2, Summer 2023
Buy this back issue! Available in hardcopy or as a downloadable PDF.
TABLE OF CONTENTS
ARTICLES
A Kaleidoscope of Quilting Mysteries by Aubrey Nye Hamilton
Miss Silver: Baby Bootees and Murder by Aubrey Nye Hamilton
AUTHOR! AUTHOR!
How My Sewing Patterns Help Me Write by Anne Louise Bannon
The Unexpected Sleuth by Connie Berry
Hobbies and Crafts in Mysteries: More than a Clever Hook by Mollie Cox Bryan
It Runs in the Family by Peggy Ehrhart
Pulling Strings by Elizabeth Elwood
I Love Making Fairy Gardens! by Daryl Wood Gerber
From Granny Fitzgerald to Skeins of Cashmere Yarn… and Murder by Sally Goldenbaum
Everyday Alchemy by Elle Hartford
Constructing Crossword Puzzles by Parnell Hall
Squared to Death by Betty Hechtman
My Crafty Characters Outshine Me by Mary Ellen Hughes
Vintage Photos Develop into a Mystery by Russell Hill
Yes, Syda, You Are a Crafter by Nancy Lynn Jarvis
A Stitch in Crime: Unraveling the Cozy Craft & Hobby Mystery Craze by Tonya Kappes
Cold Hobby Case: The Chilled Chess Champ by Ron Katz
Blending My Love of Crafts and Cozies by Sybil Johnson
Theme Mystery Book Groups by Maggie King
Killer Crafts: Crafting in Mysteries by Jenn McKinlay
A Small World After All by Camille Minichino
How Bird Watching Will Enrich Your Writing by Margaret Morse
The Brooklyn North Murder by Erica Obey
Hobby Me This by Janis Patterson
Two Careers, One Brain: Confessions of an Author/Artist by Janice Peacock
Vintage Trailers and Boxing: A Deadly Combo by Karen A. Phillips
A Hobby That Can Get You in Trouble by Neil S. Plakcy
You Are What You Write by Amber Royer
The Art of Craft in Mysteries by Joanna Campbell Slan
Not Quite a Rule Follower by Lois Winston
COLUMNS
Mystery in Retrospect: Reviews by Lesa Holstine and Jay Gertzman
Children's Hour: Hobbies in Mysteries by Gay Toltl Kinman
The Family Tree Detectives by Cathy Pickens
Crime Seen: My Hobby Is Mystery by Kate Derie
Miss Silver's Knitting Journal by Aubrey Nye Hamilton
From the Editor's Desk by Janet A. Rudolph
---