Animals in Mysteries I
Volume 39, No. 3, Fall 2023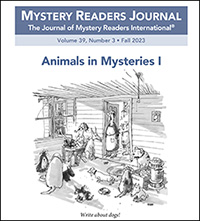 This is the first of the Animal Mysteries issues for Volume 39. There will be a second issue in December, so be sure to order both (or it will come with your 2023 subscription!).
Animals figure in so many different ways in mysteries. They're pets, they're sidekicks, they're victims, they're suspects, and they're often main characters. And not just that, there's a huge variety of animals, not just dogs and cats. I think you'll find the articles and author essays in this issue illuminating—and fun!
In this issue of Mystery Readers Journal you'll find articles, author essays, and reviews of new and older mystery novels that feature animals. Because we had a large number of contributors, we decided to split the issue into two. So thanks to everyone who contributed to this theme. Not sure we received your essay? Send an email to confirm. If you didn't send an author essay or review, you still have time. Send an email to: janet @ mysteryreaders . org


And, FYI, we had two other

Animals in Mysteries

themed issues:
Check out the table of
contents for
the past issues. Both are still available. You'll want to have a complete set!
If you're a PDF subscriber, you will receive download instructions today. Hard copy subscription copies should be received this week. International subscribers will receive their issues within two weeks. PDF Contributor copies will go out this week. Thanks to everyone who contributed to this amazing issue.
ARTICLES
Agatha's Ark: Animals in Classic Crime Fiction by Kate Jackson
AUTHOR! AUTHOR!
No Wombats Involved by Donna Andrews
On Horses and Drug Sniffing Dogs by Anne Louise Bannon
Solving Crime From a Dog's Point of View by Louisa Bennet
Dogs Are Supernatural by Jeffrey B. Burton
Rescuing Animals Through Mysteries by Cate Conte
What The Dog Knows by Krista Davis
When Disaster Strikes, Dogs Answer the Call by Sara Driscoll
How Tugger Became Boone by Darlene Dziomba
Reinventing Max and Thomasina Bug by Elizabeth Elwood
The Character of Creatures by Kate Fellowes
The Making of a Hobby by Chris Goff
Hold Your Horses by Sasscer Hill
Beasts in the Garden by Cary Griffith
The Strength of Animals by Elle Hartford
I Don't Do Goodbyes by Nancy Lynn Jarvis
The Great (Cat) Detectives by Sofie Kelly
The Terrier Takeover by Shannon Hollinger
A Foot and a Half Long Bundle of Love by Syrl Kazlo
A Writer's Recipe for Happiness: Books and Dogs and Trees by Paula Munier
Animals and the Mysterious Ordinary by Priscilla Paton
Tale of a Whale by Richie Narvaez
Cat Mummies and Other Feline Tales by Mary Reed and Eric Mayer
The One Percent Cat by Elena E. Smith
Then There Was a Dog by Linda L. Richards
Getting To Know Dogs by Leigh Russell
Where the Wild Things Are by Wendall Thomas
Eight Paws, Two Wings by Lois Winston
COLUMNS
Mystery in Retrospect: Reviews by Lesa Holstine, Kathy Boone Reel, L.J. Roberts
Children's Hour: Animals in Mysteries by Gay Toltl Kinman
From the Editor's Desk by Janet A. Rudolph