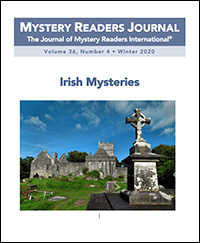 Mystery Readers Journal: Irish Mysteries (Volume 36: 4, Winter 2020-2021)
is available as a
PDF
and hardcopy. If you're a PDF subscriber, you should have received download instructions. Hard copy subscription copies should arrive this week. PDF Contributor Copies will be going out shortly. Thanks to everyone who contributed to this issue.
MYSTERY READERS JOURNAL: IRISH MYSTERIES
Buy this back issue! Available in hardcopy or as a downloadable PDF.
TABLE OF CONTENTS
ARTICLES
The Real Ireland by Robin Castle
Murder in the Border Country: The Crime Novels of Anthony J. Quinn by David Clark
The Ireland We Believe We Own by Rona Bell
Dublin Crime from the '50s to the 2000s by Peter Handel
Irish Mystery Writers of the Golden Age by Patricia Cook
AUTHOR! AUTHOR!
The Orange and the Green by James Benn
Shadows of Guilt: Ireland in the 1950s by John Banville, aka Benjamin Black
How Ireland's Mysteries Bedazzle the Historical Novel by Nancy Blanton
At Marks and Spencer by Flynn Berry
Irish Inspirations by Rhys Bowen
On Living and Writing in Ireland by Robin Castle
Kennedy, Starrett & McCusker… No, Not a Firm of Ulster Lawyers by Paul Charles
Routine Commercial Bombing, and Other Tales from Belfast by Anne Emery
My Wild Irish Prose by Carole Nelson Douglas
How Joining the Irish Infantry Inspired Me To Be an Author by Michelle Dunne
Secrets and Hidden Things by Tana French
Stories from Ireland's Thin Places by Erin Hart
Serial Killer on a Small Island by Catherine Ryan Howard
Noir in Belfast by Adrian McKinty
Bonds to Ireland Can't Be Broken by Catie Murphy
The 74% Irish in Me by Carlene O'Connor
Strange, Yet Familiar—My Ireland by Clare O'Donohue
Study Abroad Leads to a Castle Adventure by Art Taylor
Listening to Ireland by Sarah Stewart Taylor
When Irish Eyes Are Dying by Andrew Welsh-Huggins
COLUMNS
Mystery in Retrospect: Reviews by Lesa Holstine, D.R. Ransdell, L.J. Roberts, Craig Sisterson, Lucinda Surber
Just the Facts: The Case of the Vanishing Women by Jim Doherty
Children's Hour: Irish Mysteries by Gay Toltl Kinman
In Short: Ireland by Marvin Lachman
Crime Seen: Green Screen by Kate Derie
Real Ireland Mysteries by Cathy Pickens
From the Editor's Desk by Janet A. Rudolph

***
SUBSCRIBE to Mysteries Readers Journal for 2021.
Themes in 2021: History Mysteries 1; History Mysteries 2; Texas; Cold Cases.
Call for articles: We're looking for reviews, articles, and Author! author! essays. Review: 50-150 words, articles, 500-1000 words. Author Essays: 500-1000 words, first person, upclose and personal about yourself, your books, and the "theme" connection. Deadline for History Mysteries: January 15, 2021.
Send queries to Janet Rudolph: janet @ mysteryreaders . org