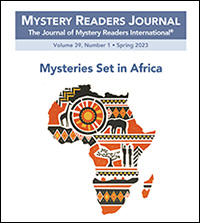 If you're a PDF subscriber, you will receive download instructions shortly.
Hard copy subscription copies should arrive by early next week
. International subscribers will receive their issues within two weeks.
PDF Contributor copies will go out in the next few days
. Thanks to everyone who contributed to both of these great issues.
Mysteries Set in Africa
TABLE OF CONTENTS
ARTICLES
Eugene P.A. Schleh: The Mysteries of Africa by Aubrey Nye Hamilton
Agatha in Africa by Kate Derie
Cape Town Crime Fiction by Eric Beetner
John V. C. Wyllie and Dr. Samuel Quarshie by Aubrey Nye Hamilton
AUTHOR! AUTHOR!
Taking My Imagination on Safari by Annamaria Alfieri
From Scandi Crime to Sandy Crime by Parker Bilal
I Was Already a Spy, I Might as Well Write About It by Bryan Christy
Rift — A Novel About a Journey That Is Still on My Mind by Liza Cody
Green Snake in Green Grass by Kathy Curnow
Nkisi by Russell Hill
A Brutal Love Letter by Akbar Hussain
Memories of my Father's Bookshelf by Sylva Nze Ifedigbo
Corruption in Kenya—The Mystery Is in the Details by Gerald Everett Jones
Writing on the Continent of Light by Deon Meyer
A Trip to Egypt by Erica Ruth Neubauer
My Mystery Writing Life by Stella Oni
Le Petit Senegal by Paul R. Paradise
Adventure and Romance in North Africa by Neil S. Plakcy
From Your Armchair to the Gulf of Guinea: The Case for the African Mystery by Kwei Quartey
Murder in Africa by Bryony Rheam
Death by Natural Causes: Creating an African Cozy Short Story by Merrilee Robson
Vacation, Vacation, Vacation by Wendall Thomas
Serious Research in Africa by Michael Stanley (Stanley Trollip)
Africa: The Most Interesting Place I've Never Been by N. S. Wikarski
COLUMNS
Mystery in Retrospect: Reviews by Eric Beetner, Aubrey Nye Hamilton, Sandie Herron, Kathy Boone Reel, L.J. Roberts, Craig Sisterson, and Lucinda Surber
Children's Hour: African Mysteries by Gay Toltl Kinman
In Short: Africa by Marv Lachman
From the Editor's Desk by Janet A. Rudolph