Today is
National Gardening Day
!
If you follow me on Facebook you'll see that every day I post a photo of a specific flower or tree, or a meandering path "Behind My Garden Gate." I am a gardener. Although I'm known for my roses, I also have a small poison garden. There are so many ways to kill in the garden what with poisonous plants, pesticides, and tools! Agatha Christie certainly knew that. If you're looking for ways to murder with plants (for writing purposes only!), I suggest Amy Stewart's Wicked Plants. It's a wonderfully illustrated reference book that also launched some great poisonous garden displays all over the US. Amy Stewart is also a mystery writer, and I recommend her historical series about the Kopp sisters. I also grow orchids, perhaps not as extensively as Nero Wolfe, but I have a nice collection. Since I live in California, there's something growing and blooming at all times. This makes it so magical!
Like my interest in mysteries, I came to gardening early on. My aunt Annie used to take us into the woods to identify plants, both poisonous and not. She also had a lovely garden in her city back yard. I learned so much from her. She and my mother began taking me yearly to the Philadelphia Flower Show. Such a treat. When I was nine, I picked up a flyer for mail-order miniature roses. I sent my money, and in return small miniature rose bushes appeared. My mother was flabbergasted. One, that I knew how to order and send off cash in the mail, and, two, that live plants arrived. I had neglected to mention my purchases to her. I had sent cash (not having a checkbook). Those mini-roses flourished, and I became hooked!
In terms of mystery, gardens are such a great place to plot a murder! There are so many weapons at hand from plants (digitalis, foxglove, rhubarb, etc) to herbicides to tools. And, gardens are great places to dispose of a body. It's not surprising, then, that so many writers use gardens and gardening in their mysteries. Who doesn't remember Sgt. Cuff's roses in The Moonstone or Nero Wolfe's fantastic orchids? If you like gardens and gardening, you'll love these two issues of Mystery Readers Journal with its rich diversity of articles, author essays and reviews.

Here's a link to the two available Gardening themed Mysteries issues of Mystery Readers Journal
Gardening Mysteries (2018)
Volume 34, No. 1, Spring 2018

Buy this back issue! Available in hardcopy or as a downloadable PDF.
TABLE OF CONTENTS
Where the Wild Things Are by Meredith Phillips
Weeds in the Borders by Carol Harper
AUTHOR! AUTHOR!
Painting the Garden by Kerry J. Charles
Gardening and Writing: A Natural Enterprise by Susan Wittig Albert
Fourth-Generation Gardener by Amanda Flower
Mischief and Mayhem in the Garden by Rosemary Harris
I Wouldn't Leave My Little Wooden Hut by Ann Granger
Crisis and Opportunity by Julie Wray Herman
Words of Green Wisdom from Mas Arai by Naomi Hirahara
Signs of Spring by Hart Johnson
Collecting the Seeds of Stories by Gin Jones
Mysteries Inspired by Dirty Hands by Meera Lester
Two-Faced Plants: Gardening, Poisons & Medicines by Linda Lovely
It's Not Always Sunny in Philadelphia… by Donna Huston Murray
The Exploding Compost Heap by Cynthia Riggs
Gardening and Me by Joyce Olcese
A Rose Is a Rose — Unless It's a Poison Apple by Susan C. Shea
How Does Your Mystery Garden Grow? by Teresa Trent
The Wrong Thumbs (But At Least They Can Google) by Art Taylor
Ode to Her Garden by Wendy Tyson
Volunteers of America by Nathan Walpow
Trees, Flowers — Murder! by Marty Wingate
COLUMNS
Murder in Retrospect: Reviews by L. J. Roberts and Dru Ann Love
The Children's Hour: Garden Mysteries by Gay Toltl Kinman
In Short: Does Your Garden Grow Mysteries? by Marvin Lachman
Crime Seen: In the Garden Plot by Kate Derie
Real Gardening Crimes by Cathy Pickens
From the Editor's Desk by Janet A. Rudolph
AND
Gardening Mysteries (2004)

Volume 20, No. 3, Fall 2004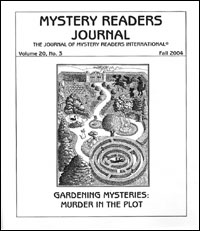 Buy this back issue! Available as a downloadable PDF.
TABLE OF CONTENTS
"Evil Began in a Garden": The Gardening Mysteries of Sheila Pim by Tom & Enid Schantz
Miss Marple & Mr. Wolfe: Classic Gardeners by C.A. Accardi
Weeds in the Borders by Carol Harper
Where the Wild Things Are by Meredith Phillips
Drug Decalogue by Jim Doherty
AUTHOR! AUTHOR!
Ruth's Secret Garden by Nancy Means Wright
All the Dirt on Heather Webber
The Joe Portugal Guide to The Joe Portugal Guides by Nathan Walpow
Rosemary and Thyme by Rebecca Tope
The Secret Garden by M.J. Rose
The Exploding Compost Heap by Cynthia Riggs
Dirt Under Fingernails by Gillian Linscott
Snake in the Garden by Kathleen Gregory Klein
Cotton Mather's Garden by M.E. Kemp
Slugs, Roses and Murder by Norma Tadlock Johnson
Monet, Murder and Mystery by Jane Jakeman
Confessions of a Gardener's Murderous Daughter by Naomi Hirahara
Weeding and Writing by Julie Wray Herman
Everything's Coming Up Roses by Karen Harper
I Wouldn't Leave My Little Wooden Hut by Ann Granger
Imaginary Gardens by Carol Goodman
Gardening Can Be Murder by R. Barri Flowers
Face Down in the Garden by Kathy Lynn Emerson
The Long Journey to a Blue Rose by Anthony Eglin
Death of an Azalea by Carola Dunn
Stalked by Flora (and Occasionally Fauna) by Claire Daniels (Jaqueline Girdner)
Saga of a Frustrated Garden Writer by Laura Crum
An Allotment of Murder by Mat Coward
Pushing Up Daisies by Kate Collins
It's Wild Outside the Garden by Meredith Blevins
Angel in the Winds by Mignon F. Ballard
Gardening in Cyberspace by Donna Andrews
Lifescapes by Susan Wittig Albert
Murder in a Pot by Peter Abresch
COLUMNS
Murder in Retrospect: Reviews by Carol Harper, Aubrey Hamilton, Kathryn Lively, Sandy Faust, Mary Helen Becker
Gardens and Gardening in British Crime Fiction by Philip Scowcroft
In Short: Gardens of Evil by Marvin Lachman
The Children's Hour: Gardens by Gay Toltl Kinman
MRI MAYHEM by Janet A. Rudolph
Letters to the Editor
From the Editor's Desk by Janet A. Rudolph