Well, it's raining cats and dogs here in Northern California, so I thought I'd post the Table of Contents and links to a few articles to the Mystery Readers Journal Extreme Weather Mysteries issue (Volume 30:2; Summer 2014). This issue is available as a PDF Download and Hardcopy. Stay dry. Stay safe.
Extreme Weather Mysteries
Volume 30, No. 2, Summer 2014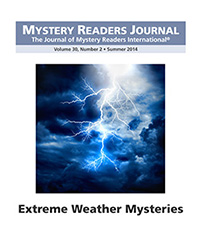 Buy this back issue! Available in hardcopy or as a downloadable PDF.
TABLE OF CONTENTS
ARTICLES
A Hurricane in Paradise: Ruth Rendell's

The Crocodile Bird

by Barbara Fass Leavy
A Few Heat Strokes by Maggie Topkis
AUTHOR! AUTHOR!
Freezing, Blowing, Zapping by Glynn Marsh Alam
Extreme Weather at the Bottom of the Thermometer by Richard Anderson
Starlight Tours by Wayne Arthurson
Wilderness + Heavy Rain = Extreme Danger by Pamela Beason
The Foggy Dew by Lillian Stewart Carl
Hell With the Lid Blown Off by Donis Casey
Weather + "What if?" = Stories with Atmosphere by Bobbi A. Chukran
A Weathered Orchard by Sheila Connolly
And Did Those Feet? by Judith Cutler
It Was a Dark and Stormy Night by Vicki Delany
Flood, Drought and Wind Pair with Murder to Make Mystery by Lesley A. Diehl
What It's Like to Visit an Active Volcano by Karen Dionne
Category Five by Philip Donlay
If the Avalanche Doesn't Kill You… by Toni Dwiggins
Bring on the Weather by Allen Eskens
Where Vultures Circle and Silence Is Found by Tricia Fields
Let It Come Down by Timothy Hallinan
Snow by Sara J. Henry
After the Flood by Greg Herren
Storms by Russell Hill
Extreme Yooper Weather by James M. Jackson
Perils of a Wyoming Winter by Robert Kresge
When the "Killer" Is a Hurricane by James Lilliefors
Hebrides by Peter May
It's a Dry Heat, Isn't It? by Annette Mahon
Hurricane Fran and

Storm Track

by Margaret Maron
This Durn Weather by Jeanne Matthews
Watering the Muse by Archer Mayor
Out of the Frying Pan and Into the Blizzard by Jenny Milchman
My Black Hat by Rosemary Mild
Blizzards Abound by Becky Michael
Coming on to Rain by Christine Poulson
No Escape from a Blizzard by Mar Preston
Letter From Prison by K.M. Rockwood
Extreme Weather—Catskill Mountains Style by Carolyn J. Rose
From a Purr to a Stour by Marsali Taylor
Storm at Put-in-Bay by Louise Titchener
How I Use Weather by Rebecca Tope
Man, It Pours by Robert Weibezahl
When Storms Come In… by Lea Wait
Deep South and Snowbound by Tina Whittle
Winter in Egypt's Western Desert by Betty Winkelman
COLUMNS
Mystery in Retrospect: Reviews by Lesa Holstine, Gay Toltl Kinman, L.J. Roberts
Crossword: A Killing Climate by Verna Suit
Children's Hour: Extreme Weather by Gay Toltl Kinman
From the Editor's Desk by Janet Rudolph

Macavity Nominees
---